The boys jump high
by j. brotherlove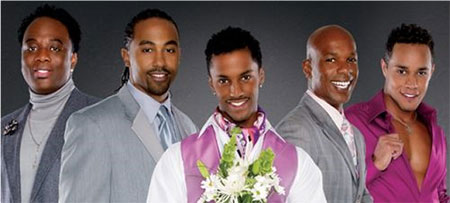 This past weekend, in New York, Los Angeles, Atlanta, Chicago and Washington, DC, fans of Logo's Noah's Arc, the first black and gay television series, flocked to the theater to watch Noah, Alex, Ricky, Chance and their loved ones reunite in Noah's Arc: Jumping The Broom. There were plenty of pre-parties, post-parties, repeat viewings and sold out shows to prove that the crew is still a hot ticket a year and a half later.
Read the full post.
Popular TV show hits movie screens
by j. brotherlove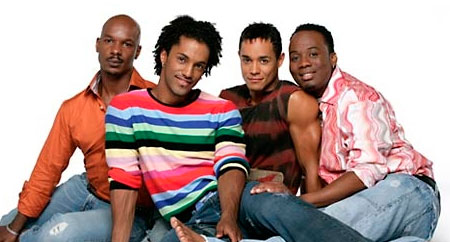 Update: Read my Film Review: Noah's Arc: Jumping the Broom
If I ever doubted the popularity of Noah's Arc, I only need to look at my referrer logs. Since the show was abruptly canceled by Logo after two seasons over a year ago, I've gotten streams of traffic looking for any hint to the proposed movie.
There has been plenty of speculation and confusion surrounding the movie, with some doubting it would ever happen. Earlier this year, series creator Patrik-Ian Polk and actor Darryl Stephens confirmed that indeed a movie was in the works.
And now, via Logo's website, we have a release date: October 24, 2008.
Young, black men at risk
by j. brotherlove
According to a recent CDC study, new HIV infections among gay black males between the ages of 13 and 24 grew by 15 percent in 2007, about 10 times higher than in the gay community overall. These increases in recent years has some calling this the second wave of the AIDS epidemic.
NewsOK.com details the difficulties health educator Mark Knight and his coworkers face while reaching out to young, black gay men in Oklahoma City.
Read the full post.
Lesbian hip hop artist profiled
by j. brotherlove
With Gay Pride season upon us, there's bound to be an increase of people coming out of the closet (voluntarily or otherwise). Be sure to check out Coming Out Stories on Logo. One story, "Hip Hop and Ready to Drop (Trish)," spotlights lesbian hip hop artist, Feloni.
Read the full post.
Recent musings from 5 gay bloggers
by j. brotherlove
Derrick ponders his usual single status:
Despite these obstacles, I've had some brief but fun sexual times with guys but it never got any further than that. I know its partly my fault. I could have said something to the effect of, "This has been great…you wanna catch a movie sometime? Maybe check out that MOCA show or grab some tacos?" Perhaps the day of courtship and whirlwind romances are over. Maybe now we screw around to find someone we're sexually compatible with and then go out of our way to see if we actually like them.
Read the full post.
Cinemax airs personal stories
by j. brotherlove
One of the more popular questions asked of us in the LGBT community is when did we know we were "different" than our heterosexual counterparts. My lightbulb came on so long ago, I can't remember exactly how young I was when it did.
In honor of Gay Pride, Cinemax is premiering the documentary, When I Knew, inspired by Robert Trachtenberg's book of the same name, on Wednesday June 25 at 7:30pm. Directors Fenton Bailey and Randy Barbato asked more than 150 people in five cities "When did you know?" The resulting film spotlights 16 of the interviewees of various ages, genders and lifestyles.
Read the full post.
If it walks like a blog and quacks like a blog, it's a blog, baby!
Noah's Arc Movie Opens October 24
—
Popular TV show hits movie screens
Oklahoma City and HIV's second wave
—
Young, black men at risk
Feloni's Coming Out Story on Logo
—
Lesbian hip hop artist profiled
What Say You?
—
Recent musings from 5 gay bloggers
When I Knew I Was Gay
—
Cinemax airs personal stories
Life's observations from j. brotherlove.
Tim'm West brings The Front Porch to Atlanta
—
Answers Q&A regarding event
All Eyes On Me: The j. brotherlove Interviews
—
Spotlight reversed for a change
'Dirty Laundry' Cleans Up & Folds In NY
—
But let's focus on the positive
Interracial Porn, Fetish & Politics
—
Resolving sexuality with activism
HIV Status A Growing Wedge For Gay Men
—
Creates another division
Reviews, meditations and criticisms from an arts junkie.
Film Review: Noah's Arc: Jumping the Broom
—
The boys jump high
If you think Erykah is Weird…
—
You ain't heard nothin'
Tempest In A Tearoom (plus Sex 2.0)
—
A review and preview of sorts
Homo Hip Hop, Lesbian Duo KIN Get Busy
—
Queer independent artists stay focused
Swimming With Steve Yockey's 'Octopus'
—
A review of his post-modern gay play
Excerpts from selected poetry and stories.
National Blogging Online 2007
—
still/here; most days*
sunday morning made
—
me a poet
A Parable Named Easter Jones
—
A girl in Jemsion, Alabama dresses up
Black Magic
—
Calling the mysterious power of black women
new
—
Because the "old" just ain't good enough